Don Julio Barreda - From Peru to America

                                                                           The beginning of American Alpaca Bloodlines
                                                                                               Excellence in Alpaca Breeding
                                                                                                              1919-2006               
​
​
Julio Barreda—an artist who extracted pigment from the invisible DNA curling in the plasma of an ancient species—painted his vision of perfection with balance and harmony across the genotype of a herd sixty years in the making. His extraordinary accomplishment, a gift from God, touched each of us. 
​
​
Don Julio stood all of five foot six, hair combed straight back—black until the day he died, nut brown skin, burnished and creased by an Incan sun and the cruel, cold wind that comes to rest in the marrow of a man born of Macusani's high plains. Don Julio was a giant in the alpaca world—the Godfather. He was born of a Quechua woman and an accountant father from Arequipa, who died, leaving little Julio to be raised by his mother and grandfather on a vast hacienda in the province of Carabaya. His relationship with alpacas began almost before he could talk. 
​
​
Don Julio walked in two worlds. The first was the Quechua's tradition-bound land, where the ocarina's plaintive melody betrays the loneliness of the vast sierra, and where the very lives of the shepherds are dependent on the sustenance of their alpacas. Julio Barreda's second world was filled with the books of Gregor Mendel and studies in world politics and classical music. Portraits of good and evil—Mao Dze Dong, Fidel Castro, Winston Churchill, and Abraham Lincoln—lined the walls of Accoyo's dining room. 
​
​
Julio Barreda understood political tyranny first hand, spending years negotiating to save Estancia Accoyo from the Peruvian government's confiscatory land reform schemes. His bullet-pocked Studebaker reminds Accoyo's visitors of the Sendero Luminoso's reign of fear. But Don Julio, always the optimist, told me in 2004 at the age eighty-four that he wouldn't be selling alpacas for awhile because he needed to build his herd for the future. His passion for alpacas came from an ageless heart. 
​
​
I have never known a more gracious human being—always willing to share his knowledge and wish a man well. When he visited my ranch in 1991, he spent his first day touring and inspecting the animals. Don Julio was always polite. I tried, as hard as I knew how, to encourage his assessment of my herd. He declined, and in retrospect, I suspect that he was following a principal taught by my mother early in life—If you can't say something nice, don't say anything at all. 
​
​
That night, as dinner arrived at the table, I naively informed Don Julio, "One day I will breed better alpacas than you do at Accoyo." (I was only half kidding). He paused, fork in mid-air, and said, "Thank you for telling me that." After carefully chewing his steak, Don Julio finished his reply, "A man always walks a little faster when he knows someone is behind him." 
​
​
As the evening wore on and dessert arrived, I pressed Don Julio to tell me how long he thought it would take my herd to catch up to his—even after he walked a little faster. After many attempts to avoid my question, he said, "Forty years." That set me back. I was forty-five, and I couldn't imagine forty more years playing catch-up. I finished my pie in silence. Finally I asked Don Julio, "How long would it take if I had Accoyo males as herd sires?" He immediately responded, "Four generations!" 
​
​
I didn't fully understand the implications of his answer way back then, and not long after Don Julio's visit, I began to research the science of animal breeding, Mendel's laws of inheritance, and the concept of heritability. I was intent on catching my mentor. I am, of course, not even close to catching the man I so much admired—more like a charging turtle than a hasty hare. But Don Julio's gift was a vision that will continue to guide my days as an alpaca breeder. 
​
​
I remember admiring a particular macho in the Canchones above Don Julio's home, and after I pointed him out, Don Julio replied without hesitation, "He's a Shere Kahn son." "How can you tell?" "By the two wrinkles behind his nostril", he replied. I looked, and sure enough, there they were, the shape of a clipping from my thumbnail. My eye sharpened, I began seeing a number of similar males in the herd, all with two wrinkles behind each nostril. I went back to the Tejada house, my residence while in Macusani, thinking about what I had learned. The next morning Don Julio arrived early at 6:00 a.m., anxious to talk with me, saying, "You know what I told you about Shere Kahn's wrinkles yesterday?" "Yes." Then, almost in a whisper, he asked, "Please, don't tell anyone." Every animal breeder has his secrets, and now I wonder how many Don Julio took to his grave. Will his magnificent bloodlines live on? 
​
​
Someone once said to me, "You made Barreda famous, writing all those books and articles about him." I felt a flush of embarrassment at the thought that someone might give me credit for Don Julio's fame. Don Julio had a passion for alpacas before most of us were born. He was famous long before I bought my first alpaca in 1984. Rigoberto Calle Escobar in his 1984 book, Animal Breeding and Production of American Camelids, said that Mr. Julio E. Barreda is one of the most prestigious alpaca breeders in Peru. Machos from Accoyo are servicing hembras on Estancias throughout the Peruvian Altiplano with positive affect on the breed. Don Julio's fame and his magnificent legacy will continue to grow with every cria conceived from Accoyo's loins. 
​
​
I remember the first males he sent to Australia: Ledgers Dream, Highlander, Inti, and El Dorado, as well as the ones he sent to the United States in 1994: Caligula, Felix, Camillo, Drazno, Torbio, and Ramilo. All were personally selected by Don Julio from Accoyo's Majada de Plantel. Each was magnificently, powerfully potent, and they transformed international alpaca breeder's perception of excellence. I have always believed that, in many ways, these were the finest machos ever to come from Accoyo. I asked Don Julio why he sent his best males. "They were my business cards," he said. "I wanted Australia and the United States to remember Accoyo." We will, Don Julio, we will. 
​
​
Accoyo quickly became the alpaca world's Mecca. Every breeder dreamed of making the pilgrimage and having a picture taken between the suri and huacaya logos, drawn with precision on the white stucco facing the doorstep to the casa. Don Julio is the alpaca community's rock star, and everyone wanted his autograph, a handshake, and an opportunity to pay respects. He was always polite, patient, and willing to pose with a new friend for a photo. 
​
​
Julio Barreda was the mayor of Macusani three times, and he could hold a crowd in his palm, bringing tears to a room with his eloquence. He was a compassionate champion of the Quechua people, making heartfelt appeals for the little children with no shoes, noses crusted with infection and eyes dulled by hunger. Julio Barreda quoted the bible, reminding us that Jesus calls us all to comfort the orphans and the aged. He touched our hearts. 
​
​
I last saw Julio in November of 2005 at Accoyo, his beloved daughter Elena by his side. He was vigorous, his mind clear, barking orders to the cowboys, showing us his finest stock. I know that God has welcomed Julio. He is there with Shangri-la, Aribal, Lord, and Shere Kahn, in the vast valleys of ichu grass, made green by water distilled from Lake Titicaca. Here on earth, Don Julio walked God's path with unsurpassed grace, and I know today that Julio is at peace—a shepherd surrounded by his cria. We will miss you, Don Julio. 
​
By Safley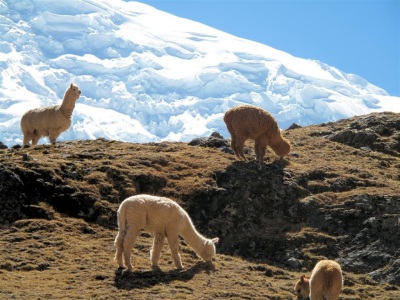 Article 1

Genetics  


​
 MACHO'S: THE FATHER'S LINEAGE ACCOYO'S CALIGULA AND CCONCHATANCA'S HEMINGWAY 
​
      Every livestock breed has its legends.  Racing has Man O' War and Bold Ruler; Aberdeen Angus breeders revere Old Jock; and Merino breeders remember Master Builder, a descendent of the great impact sire Majestic.  Alpacas of pedigree are a rather recent phenomenon.  We cannot reach back centuries or even decades for the icons of alpaca breed improvement.  The most famous alpaca herd sires are of recent vintage, some are still alive. 
​
      Alpaca World asked me to write about one or two herd sires that I thought were of consequence to the breed.  I chose Accoyo's Caligula and Cconchatanca's Hemingway who have both thrown their seed to the four winds of Peru, Australia, the United States, and England.  But to understand these males, both imported from Peru to the United States, one needs to know exactly where and from whom they were born. 
​
​
ACCOYO       I first heard Julio Barreda's name in 1990.  I asked a Peruvian friend, who was in the alpaca textile business, a simple question, "Who has the best alpacas in Peru?"  My friend replied, without hesitation, "Don Julio Barreda."  
​
      Today, Don Julio is one of the most important Peruvian alpaca breeders.  His ranch "Accoyo", an indian word meaning "sandy ground", lies near the village of Macusani, at 15,000 feet above sea level.  National Geographic Magazine called Macusani the world center for alpaca fiber production.
​
      My first opportunity to inspect alpacas from Accoyo occurred in 1991 before I met the legendary Don Julio.  During a visit to Grupo Inca's experimental breeding farm in Sallalli, on my first trip to Peru, I inspected 24 huacaya machos just purchased from Barreda's Accoyo ranch.  Each male, more massive than any I had ever seen, was extreme in its traits, with great waves of crimp, microscopic fineness, and prodigious density.  I remember thinking they are surely of a different breed than their puny brethren that populate my pastures at home. 
​
      I arranged to meet Don Julio Barreda in Arequipa shortly after viewing his males at Sallalli.  I was immediately attracted by his kind, honest demeanor and his willingness to share his knowledge of alpacas.  All of these events occurred when it was illegal to export alpacas from Peru.  At that time, I could only dream of owning alpacas from Accoyo.  The laws of Peru were finally changed, and in 1994 the first Accoyo alpacas were imported into the United States. 
​
By Safley

   Article 2

Tax Benenfits for Alpacas

Alpacas as an Investment  From Smart Money Magazine 2012
​
You may have heard that Alpacas make a great investment because of their high annual yields of fiber and the lucrative income it can provide. But did you also know that the tax code makes offers huge benefits to Alpaca owners?
​
Alpacas as an Investment
​
Investing in Alpacas has many advantages
​
Whether you're an individual with the ability to raise an Alpaca for fiber on a small farm or breed alpacas to shear or sell on a larger area of land, the tax code is full of deductions that will make investing in an Alpaca even more profitable than many other forms of investment.
​
Section 179 of the tax code allows for taxpayers to begin claiming deductions for some capital assets, the things purchased as investments toward profits, as soon as they are purchased. Alpacas are among the limited number of purchased investments that are included in this section. These are benefits that you will not be eligible to receive if you put money toward a traditional investment opportunity, like buying stock or a CD.
​
If you own an Alpaca for over a year, it is subject to capital gains tax, like most other investments. Capital gains are profits from an investment that has been resold. Your initial livestock will be subject to this provision if you sell them, as will any offspring from your livestock.
​
At the end of the day, Alpacas are a form of investment that offer significant and unique tax deductions that will start benefitting you as an investor right away. As long as you keep them, you won't need to pay capital gains taxes, so Alpacas an be a great long-term investment opportunity. Or, if you choose to sell them, take the profit and pay the capital gains taxes on the sale, you still come out ahead—you will have accumulated enough tax benefits between the time of purchase and the sale to compensate for paying livestock capital gains taxes on your Alpacas.
​
​


Alpaca Tax Benefits

   Alpaca Taxes 2007: Updated for 2012
                                                                         Why Not Have Uncle Sam Help You Buy Your Alpacas 
​
...
​
Raising alpacas can offer the farmer some very attractive tax advantages. In 2003 those benefits got a lot better due to the "Jobs and Growth Reconciliation Tax Act." which was enacted into law on May 28, 2003. It was amended for the 2007 tax year. The new rules added several powerful incentives for people who buy alpacas. The 179 deduction has been raised to $139,000. These benefits are for assets placed in service after May 5, 2003. 
​
If alpacas are raised for profit, all the expenses attributable to the endeavor can be written off against your income. Expenses would include not only feed, fertilizer, veterinarian care, etc., but depreciation of such tangible property as breeding stock, barns and fences, all of which can help shelter current cash flow from tax. Beyond these basics there are several strategic tax advantages for the alpaca farmer. 
​
The fact is that Uncle Sam will pay for a portion of the cost of acquiring your herd, assuming you are currently paying income tax and plan to continue paying income tax over the next six years. You can write 100% of your original purchase price off, up to a maximum of $108,000, in the year of purchase. If you are in the 45% tax bracket, the deductions for depreciation that the animals are eligible for may save you up to 45% in cash, of your original purchase price. 
​
If you were to buy ten females for $108,000, pay $36,000 down, and take advantage of IRS code section 179, insure the animals and finance the balance over 4 years, the government would give you a tax refund of $50,607 and you would have cash out of pocket of ($7,582) in the first year. In other words in the year of purchase you would pocket $7,582 in net cash, after tax. This assumes you are in a 45% tax bracket (state & federal). (See page 8 for the complete details.) 
​
We recommend that you engage an accountant for advice in setting up your books and determining the proper use of the concepts discussed in this article. The aim of this discussion of IRS rules is to make you more conversant with the issues of taxation. 
​
TAX DEFERRED WEALTH BUILDING 
​
Alpaca breeding also allows for wealth building, while deferring tax on your investment's increased value. A small farmer can purchase several alpacas and then allow their herd to grow over time without paying tax on its increased size and value. If the same amount of money was invested in a Certificate of Deposit, any interest earned would be currently taxable. In addition, the C.D. could not be depreciated, thereby offsetting the amount of tax due. 
​
IRS CODE SECTION 179 DEDUCTION 
This deduction is available every year when you purchase IRS code 1245(a) (3) assets that are acquired for use in an active business [(Code Section 179 (d) (1)], assuming that you have not used the deduction on a computer or some other qualifying asset. Many people do not understand that you can use this deduction to write off your purchase of up to $108,000 worth of alpacas this year and that they can take another $112,000 deduction next year. The following example takes into consideration IRS code section 179. 
​
Purchase price (one or more alpacas):   $108,000 
Section 179 tax deduction ($108,000) 
Tax savings 45% (tax bracket 45%)      ($48,600) 
Actual after tax cost out of pocket           $59,400 
​
In other words, if you are in the 45% tax bracket (state & federal) the government will reduce your taxes by 45% of the cost of $108,000 worth of alpacas. This deduction is available for all taxpayers. To see how much this will benefit you, simple calculate your state and federal tax bracket and multiply it by the amount of your purchase up to $108,000. 
​
Please Note: 
​
1) that you must have sufficient income to use the deduction. If you have no ordinary income then the deduction will be limited, 2) the unused portion of the deduction can be carried forward to subsequent years, 3) you may want to forgo electing to take the deduction and simply depreciate the cost of your alpacas. This approach would allow you to create a net operating loss which could be carried back two years and you may obtain a refund of previously paid tax, and 4) to benefit from the 179 deduction the tax payer can not place more than $430,000 of qualifying assets in service in the year that the deduction is taken. 
HOBBY FARM RULES 
The first step in qualifying for favorable tax treatment as a farmer is establishing that you are in business to make a profit. You can not raise alpacas as a hobby farmer and receive the same tax preferences as a for-profit farmer. A farming operation is presumed to be for profit if it has reported a profit in three of the last five tax years, including the current year. 
​
If you fail the three years of profit test, you may still qualify as a "for profit" enterprise if your intention is to be profitable. Some of the factors considered when assessing your intent are: 
​
You operate your farm in a business-like manner. 
The time and effort you spend on farming indicates you intend to make it profitable. 
You depend on income from farming for your livelihood. 
Your losses are due to circumstances beyond your control or are normal in the start-up phase of farming. 
You change your methods of operation in an attempt to improve profitability. 
That you make a profit from farming in some years and how much profit you make. 
You or your advisors have the knowledge needed to carry on the farming activity as a successful business. 
You made a profit in similar activities in the past. 
You are not carrying on the farming for personal pleasure or recreation. 
You don't have to qualify on each of these factors - the cumulative picture drawn by your answers will provide the basis for the determination. 
​
FARMERS TAX GUIDE 
One of the frustrating factors in dealing with the IRS rules is getting to a definitive answer. The code is often more grey than black or white; consider the following statement which is found in IRS publication 225, Farmers Tax Guide: 
​
"This publication covers some subjects on which a court may have made a decision more favorable to taxpayers than the interpretation of the Service. Until these differing interpretations are resolved by higher court decisions or in some other way, this publication will continue to present the interpretation of the Service." 
​
I recommend everyone who farms alpacas obtain a copy of this handy guide at your local IRS office or at the IRS website at www.irs.gov. It is very informative. 
​
Once you've established that you are farming alpacas with the intent to make a profit, you can deduct all qualifying expenses from your gross income. The discussion from here forward presumes you are a cash basis taxpayer and you keep good records. Accrual basis tax payers would also be allowed the same tax treatment, but their timing might be different. 
​
First, the following items must be included in your gross income calculations: 
​
Income from the sale of livestock 
Income from sale of crops, i.e., fiber 
Rents 
Agriculture program payments 
Income from cooperatives 
Cancellation of debts 
Income from other sources, such as services 
Breeding fees 
Then the following expenses may be deducted from this income: 
​
Vehicle mileage at .445 cents a mile for all farm business miles 
Fees for the preparation of your income tax return farm schedule 
Livestock feed 
Labor hired to run and maintain your farm (remember, you must not deduct the expense of maintaining your personal residence) 
Repairs and maintenance 
Interest 
Breeding fees 
Fertilizer 
Taxes and insurance 
Rent and lease costs 
Depreciation on animals used for breeding, real property improvements, barns and equipment 
Farm-related travel expenses 
Educational expenses, which improve your farming expertise 
Advertising 
Attorney fees 
Farm fuel and oil 
Farm publications 
AOBA dues and registry fees 
Miscellaneous chemicals i.e. weed killer 
Vet care 
Small tools having a useful life of less then one year 
Please note: Personal and business expenses must be allocated between farm use and personal use, for instance, with such expenses as utilities, property taxes, accounting, etc. Only the farm use portion can be expensed. 
​
AT RISK RULES 
Once you've determined your net income or loss, it is included on your tax return as an addition to or a deduction from your ordinary income. Losses can be carried back for two years and forward for twenty years. To deduct any loss, you must be at risk for an amount equal to or exceeding the losses claimed. The "at risk" rules mean that the deductible loss from an activity is limited to the amount you have at risk in the activity. You are generally at risk for:  
​
The amount of money you contribute to an activity 
The amount you borrow for use in the activity 
You must establish the cost basis of your assets for tax purposes. This basis is used to determine the gain or loss on sale of an asset and to figure depreciation. In determining basis, you must follow the uniform capitalization rules found in the IRS code. Animals raised for sale are generally exempt from the uniform capitalization rules, and there are other exceptions for certain farm property. You need to become familiar with these rules. 
​
Once you've established the cost basis of your various assets, you take a charge for depreciation against your annual income. This process allows you to expense the historic cost of an asset to offset present income. The effect is to create non-taxable cash flow on a current basis. This benefit is especially attractive in an environment of higher taxes. 
​
ALPACAS SIX YEAR WRITE-OFF 
There are several methods of writing alpacas off, beginning with the straight line method which allows you to deduct one-fifth of their cost each year, except the first year, in which the code allows for a prorated write off based on the month of your purchase. The net result of this method is that it takes six years to write off your alpacas, unless you buy them in January. The straight line system can only be used by making an election. There is also the modified accelerated cost recovery system using 150% declining balance and the half-year or mid-quarter convention (MACRS) which allows animals to be written off as follows: 15% year 1, 25.5% year 2, 17.85% year 3, 16.66% years 4 and 5, and 8.33% year 6. This is an accelerated schedule allowing for a larger percentage of the asset to be written off early. The MACRS system is the system preferred by the IRS since it does not require an election. Alpacas born at your ranch have no cost basis and cannot be written off, although they may qualify for capital gain treatment on sale. The costs related to financing or interest on your purchase is also deductible. Many people pay cash for their animals so writing off the interest is not an issue. The following examples articulate the benefits of tax deductions derived from an investment in alpacas. The examples do not include expenses for feed, veterinarian care, supplies, and transportation. 
​
FINANCING 
Let's consider what would happen if you purchased a herd of six alpacas for $108,000. In this scenario we will assume you are in the 45% overall tax bracket (state and federal), use the section 179 deduction in year one, use the MACRS depreciation method, finance the herd at 8% interest for four years, and insure the herd for the balance owed after a 30% down payment.  All purchases of less than $108,000 are 100% expensible in the year of purchase. (Please consult your accountant to determine how these benefits pertain to your actual taxable circumstances.) 
​
FIVE YEAR AFTER TAX PURCHASE PROJECTION 
(See PDF document to view entire Tax Planning table)  
​

Example for 45% bracket is just an example.
The total after tax cost of purchasing a $108,000 herd for taxpayers in the 45% bracket (state and federal) is $77,786, spread over six years, including principal, interest, and insurance. 
​
CAPITAL IMPROVEMENTS 
Capital improvements to your ranch can also be written off against income. Barns, fences, pond construction, driveways, parking lots all can be expensed over their useful life. Equipment such as tractors, pickups, trailers and scales each have an appropriate schedule for write off. The depreciation schedule for each asset class varies from three years to forty years. A barn or special purpose agricultural building can be written off pursuant to Section 179 in the year it is put in service. If you do not chose to write the barn off as a Section 179 asset then you can depreciate it. To qualify for a 179 deduction it must be put in service after May 5, 2003 and before 2010. [UPDATE: The tax code has been extended and raised to $139,000. See your attorney to confirm in your state.] 
​
The original cost basis of an asset is reduced by the annual amount of depreciation taken against the asset. Other costs add to basis, such as certain improvements or fees on sale. The changes to basis result in the adjusted cost basis of the asset. Upon sale excess depreciation, previously expensed, must be recaptured at ordinary income rates. The recapture rules are a bit complex, as are most IRS rules, but the IRS Farmers Publication I've mentioned explains them well. 
​
CAPITAL GAINS VS. ORDINARY INCOME 
When an asset is sold, say for instance a female alpaca, which was purchased for breeding purposes and held for several years, the gain or loss must be determined for tax purposes. If this alpaca was purchased for $20,000 depreciated for two and a half years or, say, 50% of its value, and then resold for $20,000, there would be a gain for tax purposes of $10,000. In other words, your adjusted costs basis is deducted from your sale price to determine gain or loss. 
​
Once you've determined the amount of a gain, you must classify it as either ordinary income or capital gain. This year ordinary income will be taxed at a maximum rate of, up to, 35% and capital gains are taxed at rates of, up to, 15%. Previously these rates were 39% and 20% respectively. The sale of breeding stock qualifies for capital gains treatment (excepting that portion of the gain which is subject to depreciation recapture rules). Any alpacas held for resale, such as newborn cria which you do not intend to use in your breeding program, would be inventory and produce ordinary income on sale. Animals born on your ranch and held for breeding purposes, which usually involves holding them for more than two years, can be taxed at capital gain rates on sale. The capital gains treatment of sale proceeds are an attractive benefit of raising alpaca breeding stock. 
​
CHARITABLE DEDUCTIONS AND EXCHANGES 
There are other tax-saving strategies that can be utilized in concert with operating your farm. For instance, you are entitled to claim a charitable deduction for the fair market value of a capital asset, which you contribute to a qualifying charity or institution. You can also exchange like for like (Section 1031) assets and avoid the tax of a sale. An example of this strategy would be a breeder who wanted to diversify his bloodstock. If he sold his alpacas and simply bought more, he would be required to pay tax on his gains. If he exchanged his alpacas for others, there would be no tax due. Employing the exchange concept can be very beneficial; for it to work efficiently; a third-party buyer is usually introduced into the transaction. The model for this type of transaction would be a real estate exchange. I'm sure your C.P.A. would be familiar with the use of like kind exchanges and how it might benefit you. 
​
INSTALLMENT SALES 
Installment sale rules allow you to defer income to future years. If you sell an alpaca with credit terms, you can defer your gain until you receive payment (excepting that portion of the gain which is subject to depreciation recapture rules). If an animal dies of disease and is insured, you can use the involuntary conversion rules in the code. These rules allow tax-free replacement of your animal. 
​
CONCLUSION 
Please bear in mind that I am not an accountant. This discussion of tax issues omits a number of rules which will impact your taxes. I did not discuss tax preference items, alternate minimum taxes, employment taxes and other concepts of importance. Whether we like it or not, this is a complicated world we live in; it often requires CPA's and on occasion an attorney. Whatever happened to the days when all you needed to farm was a mule, a plow, and a strong back? 
​
In summary, the major tax advantages of conducting an alpaca business include the employment of expensing capital assets depreciation, capital gains treatment, and the benefit of offsetting your ordinary income from other sources with losses from your farming business. Wealth building by deferring taxes on the increased value of your herd is also a big plus. It pays to keep your eye on the tax law changes instituted by Congress. On occasion, like in the year 2007, you may find a silver lining in the clouds of government. 
​
By Safley